Louisiana Cutting Video

Check out this quick video to see what Louisiana Cutting is all about!

Louisiana Cutting

Welcome to Louisiana Cutting. We are a precision Waterjet and Plasma mechanized CNC shape cutting service provider focused on value driven solutions to fulfill your specific demands. All with exceptional customer service.

Sparks are Flying

Updated plasma power supplies with the addition of 450 Amp capability means sparks are flying faster than ever at Louisiana Cutting.  With THREE cutting tables, we are able to turn around your jobs even faster.

From CAD to Cut!

We take you through the process CAD to Cut so you don't have to mess with it. We accept many different drawing formats along with details like material type, thickness and quantity to get your parts completed in the time frame you need them in.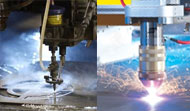 Plasma/WaterJet – We use ESAB's proprietary dual plasma/waterjet process that allows for cost effective precision parts.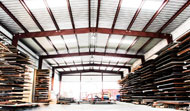 Inventory – We carry a large variety of plate and sheet to help speed up your turnaround.
Large Tables – The Hydrocut LX CNC Waterjet Cutting System is a heavy-duty gantry cutting machine. Floor mounted crane rails and a rigid gantry are combined with digital AC drive amplifiers, brushless AC motors, and precision gearboxes.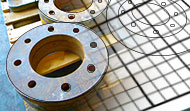 From CAD to Cut – Our highly skilled team will help you from concept to CAD to Cut to completion.  Call today to get started.
"...they developed their business to cut extremely large as well as small raw materials. They chose a combination waterjet/plasma system that also gave them unlimited possibilities. The combination of the two cutting systems and the large table for complex and heavy steel provided them with a unique value-added service for their customers."–FF Journal, Oct. 2009